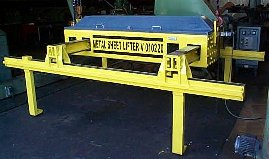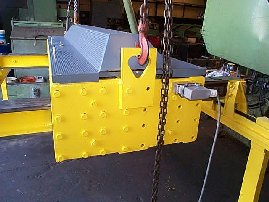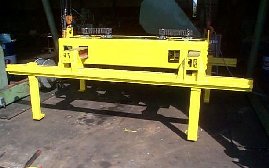 News-Review, Nov. 5, 2000
Steel plates crush forklift operator
Wayne, Mich. - A warehouse worker was crushed to death when steel plates fell from the forklift he was operating. According to a spokesperson for the local police department, he was driving a large-capacity forklift loaded with steel plates when he apparently got out of the lift to make some adjustments. Eight 10'x20' steel plates, weighing approximately 13,000 pounds, then fell off the forklift and crushed the man. The accident is under investigation.
Romulus Roman November 2000


If you have to handle stacks of sheet metal with a forklift, you are aware of the danger of loose sheets that are slippery on the steel forks.
On top is driving a forklift not the safest place to be if it is all stacked high up.
When handling lots of sheet metal most manufacturers and suppliers have an Overhead Crane or a Gantry Crane.
This was the start of designing our Sheet Metal Lifter.

Main Avantages:
-The operator is standing aside, away from the dangerous lifting zone.
-About 40% more floorspace is available(no gangway for the forklift)
-Smooth and safe operation through improved visibility for the operator.
-Shorter acces time.
The controls are all integrated in the crane controls.
Once the arms are manually placed for the correct length, it is just a push on a button to lift several packs of sheet metal.


Main Caracteristics:
Lifting Capacity:8.000 lbs or 4.000kg
Max. Sheet Metal measurements:
10'/5' or 3.000/1500mm
Power Required:
110V 60c/s 1.5Kw or 220V 50c/s 1.5Kw
Weight:4.428 lbs or 2.214kg

An AC speed controller integrated in the Crane's electrical cabinet assures smooth and safe handling.
We obtained a CE safety certification with a 200% test load of 16.000 lbs.
More details? ##we posted here the latest Users Manual and Service Guide for this machine.