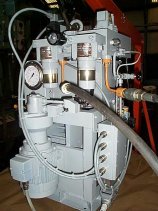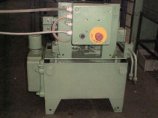 We are building state of the art hydraulic units for military as well as for industrial purposes.
Since we are part of Nato, with a strong orientation towards the United States most equipment used is according to Nato specs, US military specifications, French or British specifications.
In the industry we commonly obtain a CE safety certification as well as civil surveys such as Lloyds Register of Shipping,Veritas and Det Norske Veritas. If your organisation isn't based in the European Community, we can stand in for the export licenses, the packaging and the transport.

Hydraulic Units, being the motor of an entire system should be well documented for installation,daily use and its maintenance.
Please take a look how we provide you with a service guide for your new unit.

You may consider to provide us with a model or your own drawings.
If necessary we design the package for you, finding a replacement for each outdated item according to the specifications, as well in hydraulics as in electrics.

Please left click on the images for a better view or follow these links:
Image #1
Image #2
Image #3

If you are looking for some solid basic information about hydraulics you may consider to download the following document:
"Field manual US Army Hydraulics".
This document is approved for public release.
It's distribution is unlimited.
This rather extensive file gives you a brief basic overview about hydraulic systems.
It comes in the PDF format and is about 1.324Mb large.
You will need "Acrobat Reader 5" for it which you find here.